Have your 4Runner or related vehicle posted here. Email a picture (JPEG 3" wide at 75 DPI if possible) and a short write up.

Sheriff's Rescue Vehicle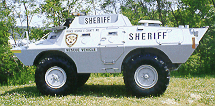 Until a couple of years ago I was a Deputy Sheriff. During my stay I was very lucky that the former Sheriff allowed me to head the Rescue Vehicle project. He also gave me my nick name "Gadget."

This vehicle started life in 1967 as a Cadilac Gage V-100 Commando Armored Personnel Carrier and was built for the USAF. When the USAF felt it had outlived it's usefulness they gave it to the Metropolitan Police Department in Washington DC (DC Police). It served their Emergency Response Team for many years until it fell into disarray and sat rotting away for a long time. I arraigned to have the hulk donated to my agency. I also acquired a junker from the US Park Police, and another junker from the DC National Guard. All of them were considered worse than junk. After a year of hard work in my spare time, I combined three junkers into one operational armored Rescue Vehicle.

The entire renovation project cost only $1,500. The vehicle originally sold for $30,000 in 1967. A newer version of this vehicle is still in production and sells for $350,000 without options. A little elbow grease and a lot of determination goes a long way.

Yes, it has the capability of being amphibious. No, I have never tried it. I did not have a tow truck that could swim out and get it if it sank. I can tell you it really does fill up with rain water real well.

Although I no longer work at the Sheriff's Office, they are still my friends. Click here for more information and some before and after shots. You may notice some similarity in the web design by guess who.
Ron's 97 4Runner SR5
This is the cleanest and shiniest 4Runner ever. Ron has also made numerous upgrades to make this 4Runner, Ron's 4Runner. Upgrades include:

TRD Supercharger

TRD Boost Gauge

Borla Cat-Back Exhaust

ELP ECU

ELP Modified HKS VPC

Vitek Spark Plug Wires

JOAS Wheels

Performance Products Spoiler with Driving lights

Many apearance enhancements

Note the custom scoop under each headlight. Visit his page for an explanation on his custom cold air induction system.

If you have any questions about his 4Runner, detailing, or any thing about automotive trends, check out Ron's Web Page.
Nate's 4Runner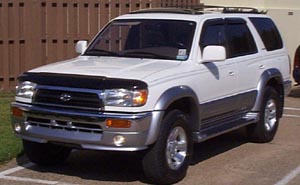 This is Nate's 4Runner. He has just installed a Performance Products spoiler with Hella driving lights. He painted it to match his flairs.
Jason's 4Runner
There are many 4Runners and this one belongs to Jason. Upgrades include:
Wiratorn's TRD Supercharged Land Cruiser Prado

Wiratorn is from Thailand and has just installed a TRD Supercharger on his Land Cruiser Prado.

Mike's Highlander

Mike's Highlander is a work in progress. Visit his web page for the lastest.

Travis's Custom Tacoma
Travis has installed custom fiberglass hood and front fenders. He is working on custom fiberglass rear bed sides. Email Travis for more information.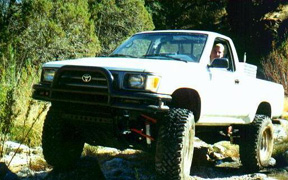 Matt's '93 4cyl. truck has a Rancho/Downey 3" suspension lift, 2"body lift, 33x12.50 BFG Muds, RS 5000's, 5.29 gears, 26mm Downey torsion bars, Detroit Locker, and Smitty's front and rear. There's a bunch of other toys inside. And there's always much more to come in the future!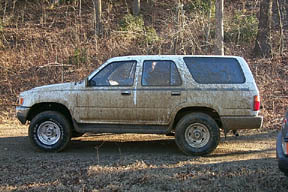 Here is Seth's 91 SR5 V6. K&N Generation II intake, Centerline aluminum wheels, 31 inch Goodyear Wrangler GSA tires, Sony CD head unit, MTX 10" sub and MTX amp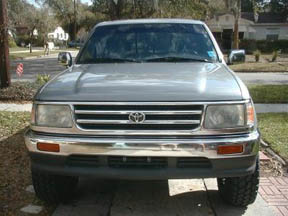 Here is Mike's T-100 that he is selling. Orlando FL.